The 2021 Forensic 4:cast Awards took place on Friday, July 23, 2021 as part of the SANS DFIR Summit. The nominees and winners are listed below: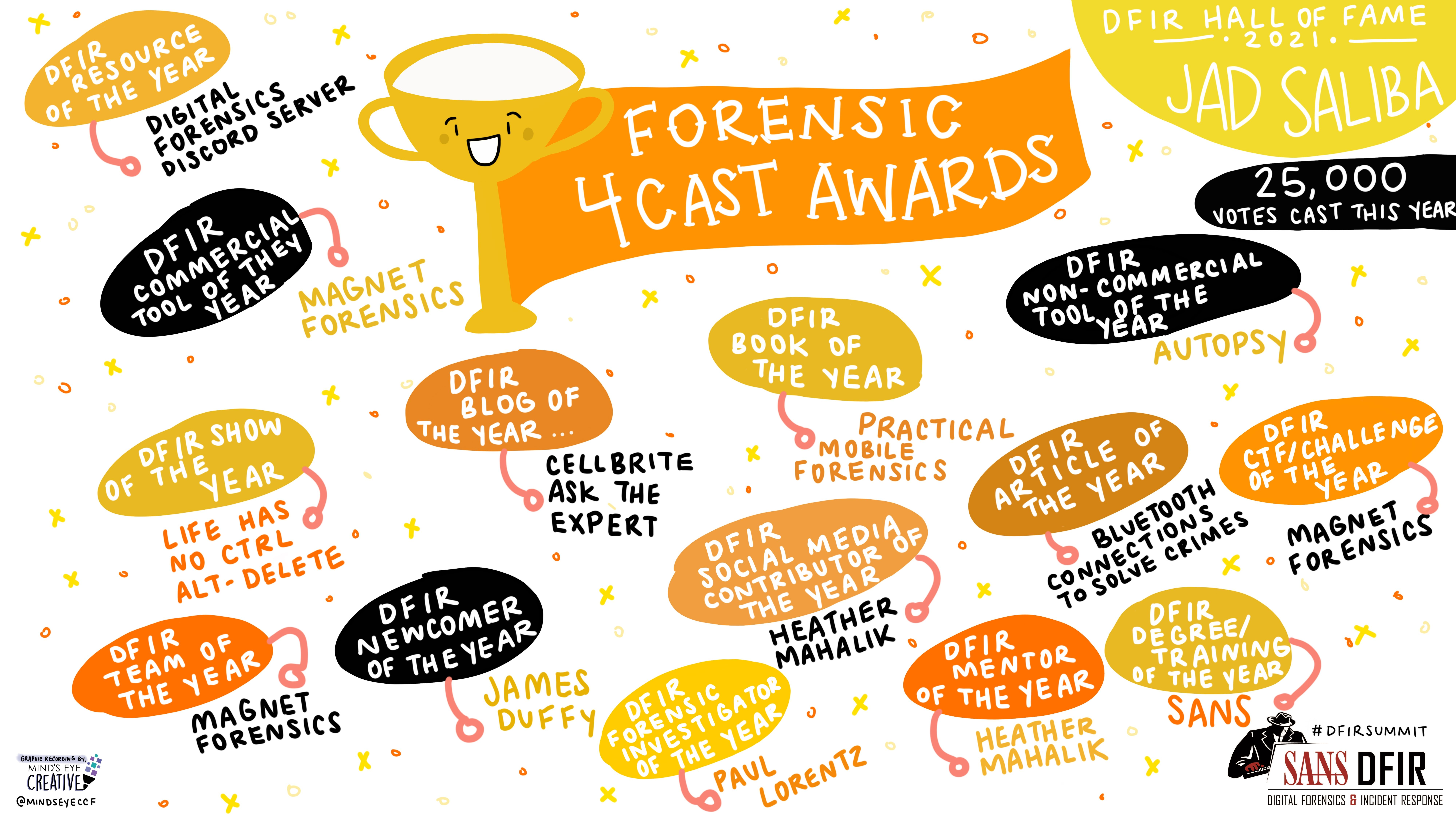 DFIR Commercial Tool of the Year
Magnet Forensics

Cellebrite
Belkasoft
DFIR Blog of the Year
D20 Forensics

Cellebrite Ask the Expert

DFIR.ru
DFIR Book of the Year
Practical Mobile Forensics Fourth Edition

Applied Incident Response
Confluence of AI, Machine, and Deep Learning in Cyber Forensics (Advances in Digital Crime, Forensics, and Cyber Terrorism (ADCFCT))
DFIR Non-Commercial Tool of the Year
DFIR CTF / Challenge of the Year
Cellebrite
OpenSOC

Magnet Forensics
DFIR Show of the Year
Forensic Lunch
13Cubed

Life has no Ctrl-Alt-Delete
DFIR Newcomer of the Year
Aniello Citarella

James Duffy

Jason Wilkins
DFIR Social Media Contributor of the Year
Ryan Benson
Jessica Hyde

Heather Mahalik
DFIR Article of the Year
How to use iOS Bluetooth connections to solve crimes – Goeckel & Mahalik

Generic Metadata Time Carving -Nordvik et al.
Are you sure you extract all the available Volume Serial Numbers (VSNs) that reside in the Windows 10 Event Log "Microsoft-Windows-Partition%4Diagnostic.evtx"? – Atropos4n6
DFIR Degree / Training Program of the Year
Cellebrite

SANS

Magnet Forensics
DFIR Mentor of the Year
Josh Brunty

Heather Mahalik

Jessica Hyde
DFIR Resource of the Year
This Week in 4n6

Digital Forensics Discord Server

About DFIR
DFIR Team of the Year
Belkasoft
Cellebrite

Magnet Forensics
Digital Forensic Investigator of the Year
Rohan Patil
Alexis Brignoni

Paul Lorentz
In addition to the awards, voted by you, we also appointed our second inductee into the DFIR Hall of Fame.: Jad Saliba of Magnet Forensics.